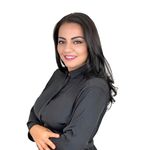 Cynthia Padilla
REALTOR®, Hablo Español
A little bit about me...
Fluent in both Spanish and English, Cynthia offers a personalized and seamless experience for clients. Whether you're a seasoned buyer, investor, or first-time homebuyer, Cynthia is here to assist you every step of the way.
Licensed since 2014, Cynthia has established herself as a respected professional in the industry. Her extensive local market knowledge and keen eye for detail enable her to identify hidden gems and unlock a property's full potential. With Cynthia's guidance, you can make informed decisions that align with your goals.
First-time homebuyers hold a special place in Cynthia's heart. She understands the excitement and questions that come with this milestone. Cynthia's patient and supportive nature ensures that you feel comfortable throughout the entire process. From understanding mortgage options to navigating negotiations and closing procedures, she will guide you every step of the way.
As a bilingual REALTOR®, Cynthia is dedicated to serving diverse communities. Her fluency in Spanish and English allows her to communicate and negotiate effectively on behalf of her clients. Clear and open communication is paramount to Cynthia, ensuring all parties feel understood and valued. Cynthia's commitment extends beyond transactions. She builds lasting relationships, becoming a lifelong resource for her clients. Whether you need advice on home improvements, market updates, or local service recommendations, Cynthia is just a phone call away. Her role as a trusted advisor is a source of pride, and she goes above and beyond to exceed expectations.
When working with Cynthia, you gain a dedicated advocate, skilled negotiator, and trusted partner. Her extensive experience, bilingual proficiency, and unwavering commitment to client satisfaction make her the ideal choice to help you achieve your real estate goals.
Contact Cynthia today and embark on a successful and fulfilling real estate journey.