The current state of the housing market has many people wondering what the future holds. One key factor that people are keeping an eye on is home prices, which have declined slightly since reaching their peak in June of last year. You may have heard reports in the media or on social networks that suggest a housing market crash is imminent. This may have led you to hold off on purchasing a home until prices drop significantly. However, this may not be the best approach.
According to a recent survey conducted by Zonda, 53% of millennials are currently renting homes because they are waiting for home prices to decrease. But here's the thing: recent data indicates that home prices may have already bottomed out and are now on the rise again. Selma Hepp, Chief Economist at CoreLogic, confirms this trend:
"U.S. home prices rose by 0.8% in February . . . indicating that prices in most markets have already bottomed out."
And the latest data from Black Knight shows the same shift. The graph below compares home price trends in November to those in February: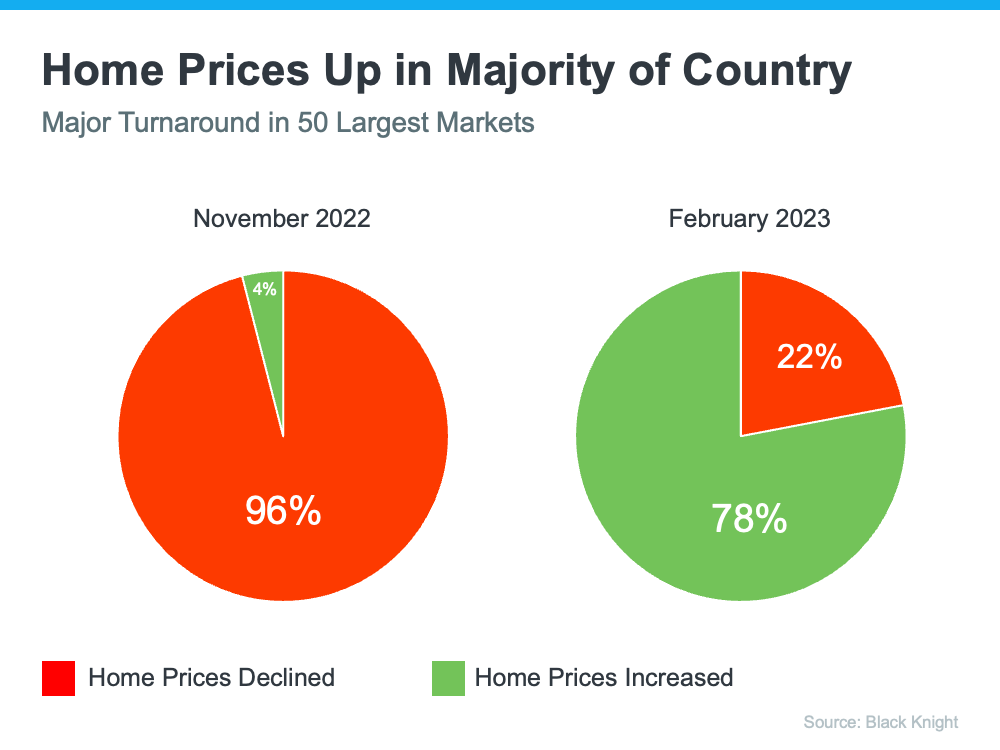 Considering what experts are saying, is it wise to continue waiting for home prices to drop before purchasing a home? The data suggests otherwise. In fact, home prices are on the rise in many parts of the country rather than decreasing. The Home Price Expectation Survey's most recent data indicates that industry professionals predict a steady increase in home prices, with a return to more typical levels of appreciation expected after 2023. To gain the latest insights and professional advice on current home values in your area, it's best to work with a local real estate professional.
Bottom Line
If you're holding off on purchasing a home in anticipation of a decrease in home prices, it may be worthwhile to reconsider. Connecting with a local real estate professional can provide you with a comprehensive understanding of what is happening in the current housing market in your area.